Masculinity by Intense Review – How Effective is This Gay Pheromone Product? Find out from the Review!
Pheromone based cologne/fragrance are made for different purposes. There are pheromone fragrances for opposite sex attraction, same sex attraction, for lesbians and for gay men.
Searching through the different internet pheromone directories I stumbled over a pheromone based fragrance for gay men called Masculinity by Intense.
It is found on third party websites and the manufacturer/distributor promote it's the real deal pheromone cologne for men to attract men.
Of course we cannot just go with that statement owing to the increased rate of fraud in the pheromone industry.
As a result, I thought it wise to give a comprehensive review of this product as a guide to making informed decisions.
Continue reading to get the full details!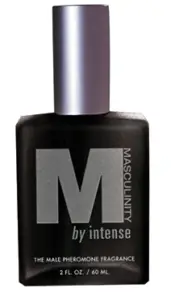 Name of Product: Masculinity by Intense
Found Website: Several Webpages 
Minimum Price: Unknown
Overall Rank (out of 100): 37 Points
Recommended Usage: Unknown
Refund Policy: Must Check with Retailer
What Is Masculinity by Intense ?
Masculinity is a pheromone-based fragrance for gay men manufactured by Intense, hence the name Masculinity by Intense.
Masculinity by Intense is marketed as a sophisticated bold and sexy fragrance to enhance self confidence, self assurance and ultimately enhance male to male attraction.
It is a 2FL. oz (60ml) spray pheromone fragrance designed to release pleasing sensual scents for boldness and attraction.
According the manufacturer, Masculinity pheromone based fragrance influence sexual behaviors in men and should also express the power, strength and fortitude of an international man.
According to them, this product has become a must have pheromone fragrance as there are positive feedbacks from its previous users attesting to its ability to help attract other men.
The manufacturer has other pheromone based formulas (Masculinity, TEN and N10Z) in the market and they seem to stand behind each product of theirs. N10Z by intense states to have pioneered the pheromone industry before it was combined with TEN.
Masculinity by Intense manufacturer claims that their products have been scientifically proven and are available for online pre-booking.
How Does Masculinity by Intense Work?
This pheromone based fragrance according the websites where it was found elicits its male-to-male attraction action by stimulating the vomeronasal organ (a chemical receptor in the brain).
This receptor is connected to the hypothalamus (a gland that triggers chemical (neurotransmitter) response to emotions.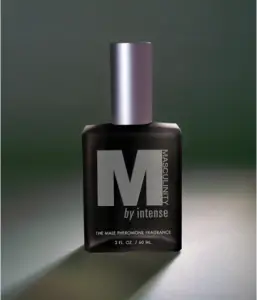 The above effect, according to them will influence men's behaviors to bring about the desired male-to-male attraction.
Keep reading to find out more!
Ingredient Profile
Masculinity by Intense promotes to contain well blended, erotic, sensual and distinctive masculine fragrance.
According to the manufacturer, it contains exotic spices, aromatic herbs, crisp citrus, French basil, West Indian clove, Asian mandarin, Silician bergamot from which the rich scents of amber, cedar wood, black pepper and leather emerge.
According to them, Masculinity also contains Italian white musk, Australian sandalwood, Madagascar vanilla and these in combination with others should enhance attraction and confidence.
Who Is It For?
Masculinity by Intense, as described by the manufacturer is specifically designed for gay men who want to improve their self confidence and create a magnetic aura.
So, for those of you amongst this group and wish to attract other men successfully, the manufacturer of Masculinity by Intense claims that this pheromone fragrance is for you.
On the other hand, it promotes it's for men who want to smell like men, hence the manufacturer's slogan, "Because a Man Should Smell Like a Man".
Additionally, men who desire to achieve boldness and have good appearance will find Masculinity by Intense beneficial as implied in the manufacturer's description.
Overview
Advantages:
Increases Male-to-Male Attraction;
Bold and Sexy Fragrance;
Influence Sexual Behaviors;
Increases Self Confidence;
Creates Magnetic Aura;
Provides More Allure;
Made with Powerful Male Pheromone;
Known in Pheromone Industry;
Well Blended Fragrance;
Safe Effective to Use;
Easy to Use.
Disadvantages:
No Study shows that this formula is proven;
Reviews fluctuates;
A little was seen about the company;

Does not have an official website

for the product;
Most webpages do not have the option to purchase the item;
No money back guarantee found.
Customer Support/Guarantee
Masculinity by Intense promotes to offer to gay men the best pheromone based fragrance that will guarantee male to male attraction.
Combining exotic and well blended fragrances, according to the manufacturer, it should make us bold, self-assured and help interested folks achieve an expected result.
Masculinity by Intense states to be made of compatible and effective ingredients for personal enhancement.
Intense, as discovered from my research has been in the pheromone industry for years and have manufactured quite a number of effective products.
Scientific data backing up these product claims will make the company more renowned.
Final Facts
Having gone through these comprehensive details about the Masculinity by Intense, it is pertinent we have a brainstorm of the facts and reach a conclusion in line with the details obtained so far.
Masculinity by Intense is for gay men to attract one another which the manufacturer states that this pheromone based formula does this effectively.
We do not doubt the stated effects, but this company should have been more realistic if we had seen scientific proves of the product claims.
The fact that they have made several effective pheromone based fragrances/colognes over the years is a plus. However, we would appreciate a comprehensive refund terms in case we are not satisfied by the results we get. Anyway, a reliable third party website should cover that.
Masculinity by Intense is solely a male fragrance to attract males. In this case, we will have to go to the retail website where this formula is being sold, make some purchases and see the effects ourselves.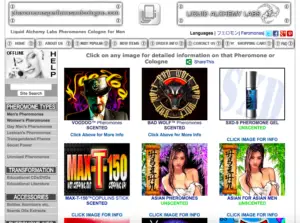 Now let me show you the Liquid Alchemy Labs pheromones for men to attract men, the company who produces the effective pheromones have been on the top shelf of the most popular effective ones.
Doubt me? Visit my review now and see it yourself.
Feel free to leave your comments based on your experience with this pheromone based fragrance.