PheromoneXS Review – Pheromones for Women – DESIRE ME XS, TEMPTRESS XS, TEASE XS, BABE, etc
I recently did a review on the PheromoneXS formulas, but was only for the men's colognes to attract women.
Today I figured, let me also do an overall review for the women's pheromones to attract men, since the men's pheromones came up to be very effective, which this company seems to carry only high doses of pure pheromones in their formula's complex.
Pheromones for women at the PheromoneXS website, they have it either in spray and/or in oil form to wear the application.
Now with a variety of pheromones that they have, I will be reviewing if not all pheromones for women, but most deffinety the most popular ones, such as the Desire Me XS, Babe XS, Women's Mix & Match Pack, etc.
So if you're a woman who's seeking for some effective pheromone formula to attract the opposite sex, then this review will be highly for you ! And if you're a man like me, who wants to attract the females, click here to visit the men's review here !
For the women's pheromones, it's time to find out how each one of the PheromoneXS female's formulas work, as you read below !
Name of Brand/Products: Pheromone XS™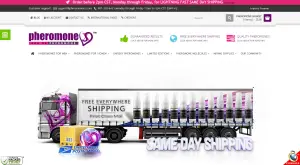 Website: www.PheromoneXS.com/Pheromones-For-Women
Minimum Price: Depends on Which Formula 
Overall Rank (out of 100): 98 Points
Recommended Usage: Apply 1-3 drops/sprays
Refund Policy: 45 Day Money Back Guarantee
What Is Pheromone XS™ ?
The manufacturer of the Pheromone XS would be the (Aser Gruppe International Corp.) based here in the United States at Munford, Tennessee, the main creator would be (Stephen Osborn AKA Steve O) who claims that their pheromone formulas really work for its purpose.
PheromoneXS carries a large rate of pheromones for both men and women, but in this review, we are only going to review the women's pheromones.
According to this company, their pheromone perfumes will have you become the spotlight of attention and have your presence be the center of every scenario you may have, from attraction, socializing, or to just be that confident alpha diva.
They mention that you (as a pheromone wearer) and by using their pheromone products, you can expect to enhance your overall lifestyle when meeting new folks or with a lover, friends, or others.
Not to mention, confidence is key to attracting the opposite sex and these pheromone formulas are exclusively designed to make you attractive, confident and successful.
Pheromone XS brand/company have been in the pheromone industry since 2011, proving highest and most potent pheromone products to all customers, as they explain.
Okay, now we're going to find out about each pheromone for women, follow down !
WOMEN'S MIX & MATCH PACK
The Women's Mix & Match Pack for the price of $84.97, it's basically a discount pack of 3 pheromone formulas, for you (woman) to choose from all of the pheromone perfumes that they have available.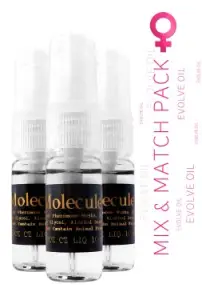 You can choose a total of 3 different pheromone formulas, such as :
Desire Me XS
Fantasy XS
Temptress XS
Tease XS
Innocence XS
Cohesion XS
Babe
Plus, by adding $1 single dollar more, you can choose the cover scent as well, where some of these exclusive scents are AXS, Sweet Sensations, Le Chocolat, Jasmine Vanilla, or Amber Rose.
DESIRE ME XS / DESIRE ME XS PLUS
For those of you who don't know, the oil forms are usually more effective and last longer than spray versions, which both Desire Me XS was designed to enhance sexual attraction, by making you more flirty and intimacy when around men.
They both carry the main female hormone/pheromone called Copulins.
The Desire Me XS oil bottle contains (57.60 mg pheromones) and with 1-3 drops to exposed skin pulse points, you can either wear it on the day time or night out and have all the guys chasing after you, as they explain.
Now the Desire Me XS Plus spray, it carries (43.60 Mg per each 10 mL bottle) and that's only 1-3 sprays needed to make it work. Here's the advantages of using either one formula ;
Increases Sexual Flirtatiousness
Enhances Self Attractiveness
Claims Men will Be After You
Makes Women Calm Down
Gain Sexual Power over Men
Increases Sexual Attention
Increases Confidence Levels
Changes to a Better Mood
Sexual Arousal / Desire as Well
Can Wear it in the Day or Night
Positive Reviews Were Found
FANTASY XS – Oil / Spray
Fantasy XS pheromone spray for women or the Fantasy XS Oil form, they were created to wear it in the daily basis, especially to work, home or going out, and what it should do is make you feel sexy enough during all times of the day.
Both formulas contain an amount of 15.94 mg pheromones per bottle, which all you need is 1-3 drops/sprays to make men take a quick glance at you.
According to the product's webpage, it should cause playful and flirting interaction when wearing the Fantasy XS perfume. The benefits would be :
Perfume is Great to Feel Sexy Everyday
Makes You Feel like the Sexiest One in the Room
Gets Men to Turn their Heads when Walking By
Can be Worn in the Day (Office, Home or Out)
Get You to Flirt in a Playful Way for Intimate
Reviews were Found for the Fantasy XS Spray
TEMPTRESS XS
Now for the Temptress XS one, I'm only able to find the spray formula, which I'm assuming there is only Temptress XS as a spray bottle.
By applying 1-3 sprays either in the day or night, which Temptress XS contains 13.80 mg pheromones in each bottle, they mention that it is best for social engaging and enhancing self-effects / status.
Temptress XS pheromone spray for women, should be only for those of you who are ready to take things to the next level, by making others feel admired by you, having you feel independent and become a self-confident alpha woman. The lifestyle benefits to expect are :
Feel like an Alpha-Leader Woman
Have The Most Confidence Ever
Gives You the Power of Seduction
Attracts Overall Attention & Radiance
Makes you Feel Secured & Confident
Appear as a Strong, Independent Woman
Plus, Driven on the Bedroom with Your Man
Enhances Your Own Overall Well Being
Become Fearless, Relaxed and Sexy at the Same Time
Claims It's the Most Powerful Master Blend of Self-Effects
A Number of Positive Reviews were Found on its Webpage
TEASE XS
Tease XS is another spray formula available, which can also be worn at day or night time by only 1-2 sprays needed, where it should enhance the effects for playful, flirting and sexual interacting.
Yet, the product's name says it all, to "tease" guys and make them drool over you !
This pheromone spray called Tease XS should make you have all the attention and excitement you want from men around you, and these benefits are :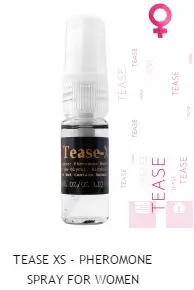 Best for Teasing Men
Get Noticed from Guys
Craves All the Attention
Excites Men & Invite Them
Gives a Hint of Sexuality
Teases Guys to Want You
Have Men Chase You
Wear it on the Day or Night
INNOCENCE XS
The Innocence XS was designed to recapture all the youthfulness of innocence without having any hint of sexuality.
This spray bottle comes with 25.20mg of pheromones per 10 ml bottle, and by wearing it in the day time or night out and by spraying 1-2 sprays, you should be ready to make you appear as a "younger and innocent" female.
Innocence XS mentions to have a complex of 8 pheromones and these advantages would be such as :
Makes You Appear Innocent
Youthfulness as they Mention
Be Seen as Pure & Wonderful
Guys May Try to Please You
Feel like a Sweetheart Lady
Positive Reviews Were Found
COHESION XS – Oil / Spray
Yes, you can choose from either the spray or the oil formula when coming to the Cohesion XS pheromone perfume. This product is best to make you feel calm, relaxed and comfortable in the daily basis.
The Cohesion XS oil form and the spray one, they both contain 6 unique pheromones (66.40mg of pheromones), and within 1-2 sprays/drops, you can feel the effects of being relaxed during difficult situations.
The good about wearing the Cohesion XS spray would be because :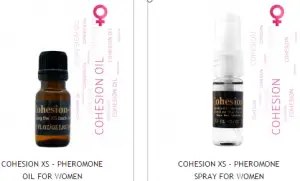 Have you Feel Relaxed & Calm
Mentions Tranquility & Comfort
Feel the Calm Effects when Wearing It
It is Said to Help Save Marriages
Found Reviews About The Results
Can Wear It in The Day or Night Time
BABE / BABE XS
PheromoneXS created the Babe oil formula and the Babe XS spray method, refers as the XS139 .
They mentioned it was designed to "push the BABE factor", where it gets people around you to show more interest in you and make you feel like the center their attention.
However, neither none of them shows the specification, on how much pheromones they included, etc.
Babe and Babe XS is said to cause :
Push the BABE Factor
Have Them Show Interest
Make You Get their Attention
Make Men Take Things to the Next Level
Push Others to Put Effort In You
Only 2-3 Drops/Sprays Needed
Positive Reviews were Shown
Closing Thoughts
Coming to an end, where I actually reviewed each one of the PheromoneXS women's pheromones and from the sources I found, these products are really effective.
Especially, how each one of them does carry a high dose of pheromones, plus reviews were abound and only positive results were mentioned.
At this point, I can say for the women's EAU De Pheromone that they are somewhat effective and you can expect to see results when using any of their products.
Plus, they offer free shipping to worldwide and there is a 45 day money back guarantee. So if you somehow find that it won't live up to its effects, you can simply send it back within 45 days and get a refund.
And when you take a look on the Pheromone XS official website at (www.PheromoneXS.com/Pheromones-For-Women), you can even check out their forum community as well, and see the reviews on a particular product of theirs.
www.PheromoneXS.com/Pheromones-For-Women
If you have any questions or would like to share a feedback, do so below, underneath this review at the bottom comment box. I hope to hear from you !