Vero Labs Review- Does CONNEKT Really Work? What About ATTRAKT For Him & For Her? Only Here
On the watch-out for some type of Oxytocin formulas out there on the online world, I was able to find the CONNEKT and the ATTRAKT in both versions at the Vero Labs website.
Which, I'm assuming (Vero Labs) is the manufacturer/company of the products listed.
Yet, as I'm taking a quick peek at the product's website, I noticed that not only this company produces Oxytocin formulas, but they also included natural "pheromones" in some of their products as well !
So i'm going to analyse the details about these products and see if it really works or not, plus come to a bottom line conclusion all in this Vero Labs review for all formulas of theirs.
So let me elaborate every aspect we all need to know, read below !
Name of Product: Vero Labs™ – (CONNEKT, ATTRAKT)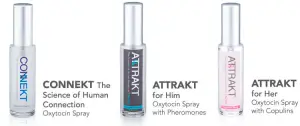 Official Website: www.VeroLabs.com
Minimum Price: Each Formula For = $79.00
Overall Rank (out of 100): 94 Points
Recommended Usage: Apply to Clothing or Fabrics
Refund Policy: Claims 60 Day Money Back Guarantee
What Are The Vero Labs™ Products?
Vero Labs is a company for Oxytocin sprays who has products in both versions for men and for women to wear and experience lifestyle benefits from it.
The manufacturer is based in North Miami Beach, Florida here in the United States, and as according to them, their main goal is to provide the latest research and develop quality products to create stronger, human connections that "help foster strong human bonds and relationships".
Back in the 2006 when Vero Labs introduced their first product, they claim to be the "first manufacturer worldwide" to release the first Oxytocin spray.
As they explain, all of their products from CONNEKT to ATTRAKT for him and ATTRAKT for her are all-natural containing ingredients, to get the natural occurring benefits such as more stronger connections and feelings bonds, plus attraction for the ATTRAKT formulas.
So let's get to know a little about Oxytocin before we get into details for each particular formula of theirs !
According to Vero Labs, Oxytocin is the "miraculous molecule" aka a human hormone that naturally occurs between human bonds and relationship, which there have been many studies done on this Oxytocin hormone.
Now they introduced the formulas to the industry and the recommendation to use will be by applying to neck/collar area of clothing, plus it can be sprayed to fabrics at home, to strengthen bonds with others.
It's best to apply a total of two sprays every 2-4 hours, for best results.
Follow down to find out about each of Vero Labs formulas !
CONNEKT – For Men/Women
As the product's name says it all, CONNEKT was designed to "connect" with others and enhance more connections with human interaction.
The company claims its the "science of human connection" when bringing out this natural pure Oxytocin spray formula.
And here are the lifestyle benefits to expect from CONNEKT (1oz bottle 30mL) product :
Enhances Human Connections
It's For Either Men or Women
Experience More Empathy
Improves Confidence & Self-Esteem
Should Contain Only Oxytocin Molecule
Creates Personal Bonds With Others
Expect More Social Bonding
Feel More Trusted by Others
Increases Opening Feelings & Loyalty
Enhances Positive Self-Awareness
Stimulates Healthier, Stronger Connections
Can Use It Together with our Usual Fragrance
ATTRAKT For Him
Now the ATTRAKT for him formula is slightly different ! Not only it contains Oxytocin molecule, but Vero Labs also included natural occurring pheromones !
So basically, Oxytocin to create human connections with others, plus with male sex Pheromones to enhance sexual attraction with the opposite sex. However, the list of the exact pheromones was not mentioned..
ATTRAKT (30mL) 2 month supply formula is Connekt + Sensuality, where the company claims it as the "science of human attraction". It also has a list of benefits, which are :
Designed to Attract The Woman of Our Life
Enhances Manly & Masculinity Behavior
Boosts Up Confidence Levels + Self-Esteem
For Men Only to Attract the Ladies/Women
Improves Current Existing Relationship
Contains Only Oxytocin & Natural Male Pheromones
Creates Long Lasting Attraction from Others
Increases Intimacy & Sexual Attractiveness
Build Stronger, Healthier Connection with Partner
Strengthens Overall Sense of Well Being as Well
Can Wear It Together With Our Usual Cologne
ATTRAKT For Her
Here's the women's version, ATTRAKT for her who is an Oxytocin spray enhanced together with female natural sex pheromones.
So if you're a woman who wants to attract men or your loved one there with a deep connection, than they promote that ATTRAKT for her (1oz bottle 30mL) which is a 2 month supply is exactly what you need.
ATTRAKT for her contains Oxytocin and the female main pheromone called Copulins, the benefits would be such as: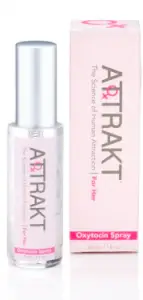 Enhances Attractiveness for Your Man
Increases Self-Confidence & Sex Appeal
Builds & Improve Existing Relationship
For Her Only, Women's Spray Formula
Increases Intimacy & Sexual Feelings
Create More Connection with Your Partner
Produces Feelings of Trust & Bonds
Improves Social Boding as Well
Creates an Overall Sense of Well Being
Pair It Together With Your Favorite Perfume
Customer Support / Guarantee
Vero Labs seems to be really behind their products, which they show their full address, phone number to contact them, or their email, plus there is a contact form on their official website, where they should respond within 24 hours.
These Oxytocin formulas will be shipped in a discreet, plain package with no text written, for the privacy of each buyer. All orders should come in within 3 business days, via USPS Priority Mail.
They also mention to ship internationally to worldwide, which could take from 2-5 weeks, as they explain.
All orders placed, they should send email notification and tracking reference number of the shipped package.
Now regarding the money back guarantee? Vero Labs states to offer a 60 day return policy to unsatisfied customers, but then as I get to the FAQ section on the Vero Labs official website, I noticed that they mention to refund a product purchased from them within 21 days only.
It states that the item must be in its "original package", meaning not opened or used in order to return for a refund or exchange.
Review Summary
The fact that Oxytocin and Pheromones have been featured in media sources, from news to media channels, etc, does provide credibility that these hormones/molecules are really effective for its own purpose.
Yet, regarding to evidence to back up, the number of research and studies are for only the effects of Oxytocin, and not specifically for the product's formulation.
According to Vero Labs, both ATTRAKT and CONNEKT are the new improved and optimized formulas of Liquid Trust and Liquid Trust Enhanced.
Plus, I also found positive reviews/comments from previous users to share their results and experience, when using either formulas.
Now here's what I have to say !
Vero Labs Oxytocin products does seem to really work, as according to the information found about each one.
And basically, let me make it short and relevant, CONNEKT Oyxtocin formula can be used either if you're a man or a female, which will improve human interaction, create personal connections with others, and enhance confidence and overall sense of well being.
The ATTRAKT for him or ATTRAKT for her will boost confidence levels, enhance and improve current existing relationships, plus strengthen healthier bonds and stronger, deeper feelings (such as trust, love, etc), and not to mention, feel more attractive when around your loved ones.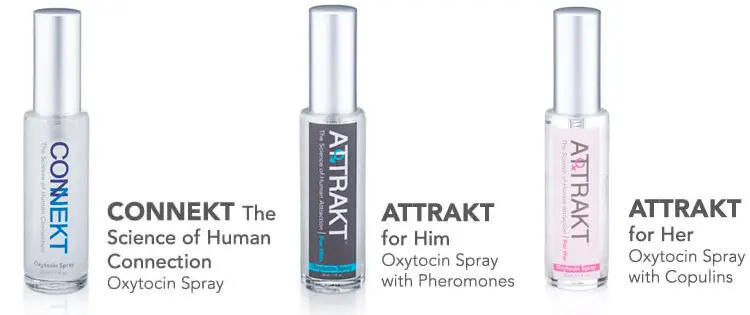 Feel completely free to share your own personal results, in the comment box below ! I would love to hear from you, especially on how this review has helped you figure out if these products are for you or not !