Crest Labs Pheromones Review – Does SEXCITER LIQUID or/and ATTRACT-A-MATE Work? All Here!
Having reviewed some enhancement products by Crest Labs in the past, I discovered some other formulas, this time pheromone-based by the same company.
Pheromones are known with the ability to produce scents/fragrances that trigger attraction and sexual feelings.
Of course, we know there are a lot of synthetic pheromone products on the market by different manufacturers. Knowing the right and effective pheromone to use could be a daunting task.
Crest Labs Pheromones claims to be highly effective in creating irresistible sexual and social responses in men and women.
Maybe these could possibly achieve the said benefits. Conversely, the statements could as well be mere exaggerations.
Here is an honest reviewed aimed at highlighting all we need to know about Crest Labs Pheromone based formulas.
Follow the review for more details!
Name of Product: Pheromones by Crest Labs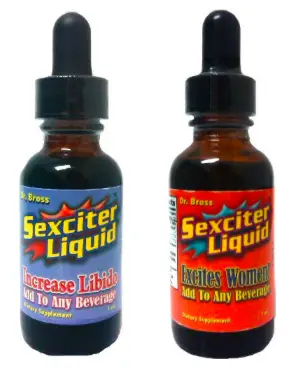 Official Website: www.Crest-Labs.com
Minimum Price:  2 Bottles – $17.48/Each
Overall Rank (out of 100): 44 Points 
Usage: Apply few Drops in Mouth or Mix it up
Refund Policy: 2 Month Money Back Guarantee
What are Crest Labs Pheromones ?
Crest Lab is known to be a manufacturing firm for diverse groups of enhancement formulas. It is pioneered by (Dr. Bross) who they mention has obtained several years of experience in the field of enhancement product design.
For the context of this review, we will concentrate on the Crest Labs Pheromone brands which, according to the manufacturer are made with powerful human pheromones.
The Crest Labs Pheromone products are said to attract the opposite sex and significantly improve the user's sex life.
The manufacturer seems to stand behind these products with a refund and discrete shipping for purchasing products.
Crest Labs products are specifically designed for folks who are up to the age of 18.
The specific information for the Crest Labs Pheromone formulas is detailed as follows:
SEXCITER LIQUID
This is said to include special ingredients designed to quickly speed up a woman's desire for sex. According to the manufacturer, SEXCITER LIQUID is for men who want to attract the woman of their choice for sexual encounter.
It should excite women, make them wild, untamed and want to have more sex with the wearer.
It is said to work wonders for creating sexual feelings; the reason why customers make more orders for it.
The usage instruction is to use some drops in the mouth alone or mix with any other liquid. Dr. Bross recommends that we should inform the woman before putting the formula in a liquid for the woman.
This sounds childish as we should always go to meet the women we intend to attract for permission!
SEXCITER LIQUID promotes to contain potent blends of human pheromones yet, the exact pheromone content and its amount was not stated.
A review SEXCITER LIQUID reads "Just tried Sexciter on my girlfriend and she says it was the best sex she ever had. She still hasn't figured out why she got so excited." JW, Arizona.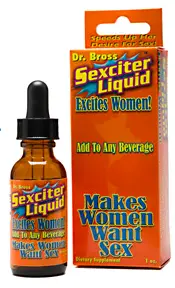 Is this a real review or falsified? We will find out. 
The Claimed Benefits are:
Speeds up Desire for Sex;
Excites Women;
Attracts Women;
More Pleasurable Sex;
Increases Sexual Stamina and Vigor;
Makes Women Hot;
All Natural Ingredients;
Safe and Effective;
No Side Effects.
ATTRACT-A-MATE
This is another pheromone based formula by Crest Labs. It claims to attract women to men.
In line with the manufacturer's description, ATTRACT-A-MATE is known to be powerful human pheromones that will make women desire us.
It promotes to create an instant natural scent of which we should use it like a cologne or an after-shave.
Additionally, ATTRACT-A-MATE is said to be ten (10) times more potent than other pheromones in the market.
Evidently, it is pioneered by a so called Dr. Bross yet, there are no clinical studies that prove the effectiveness of the formula.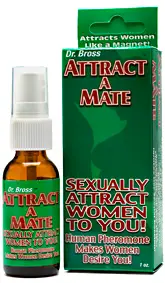 The Benefits: Claims:
Instantly Attracts Women;
Triggers Sexual Feelings;
Makes Men Desirable;
Increases Users' Self Confidence;
Makes Men Irresistible;
Ignites Her Sexual Passion;
Powerful Human Pheromone;
Enhance One' Sexual Appeal;
Creates Affectionate Behavior;
Increases Romantic Attention;
Makes Users More Seductive;
Safe and Effective.
Customer Support/Guarantee
Crest Labs mention to stand behind their pheromone based formulas and others with a two month money back guarantee excluding the cost of shipping the returned order back to them.
As highlighted in the description of the products, they are made of powerful and effective pheromone blends, hence should be safe for the intended benefits.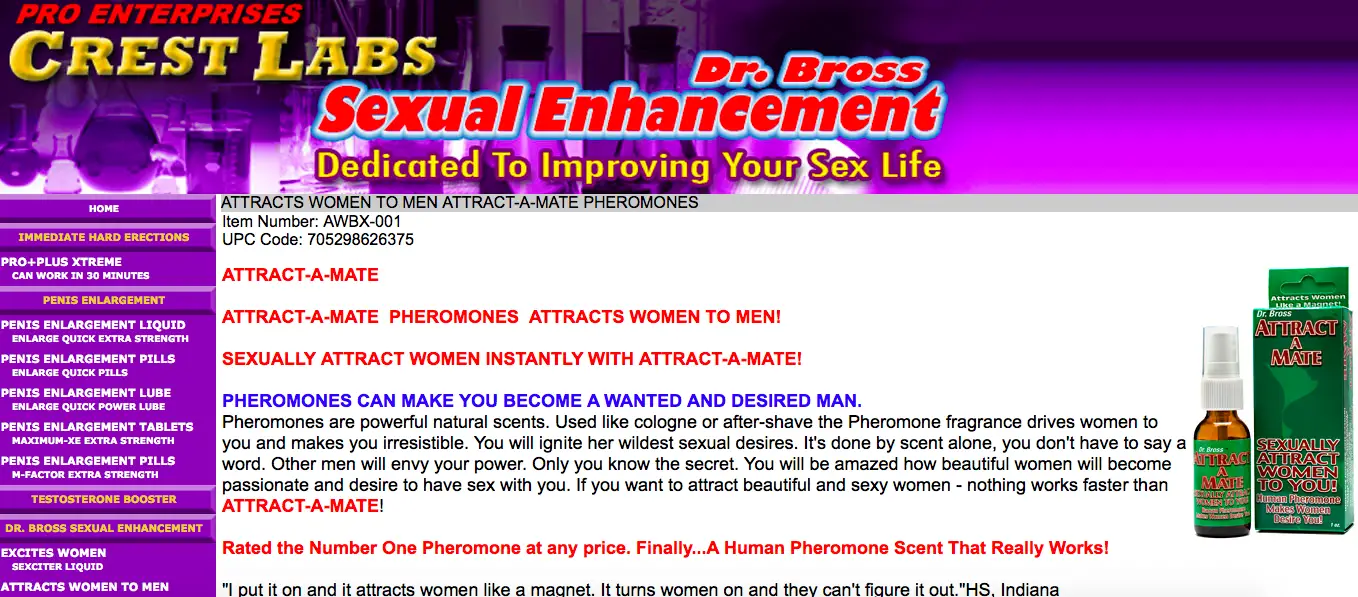 According to them, all orders are discretely shipped with United Parcel Service or the Postal Service in plain packages. This is to say that there is nothing written on the packages concerning its content.
They mention to have had over 23 years of experience in shipping. Therefore, they should process all orders within 48 hours.
More so, customers are guaranteed a secure online ordering with their information kept confidential.
Conclusion/My Personal Opinion
Being a highly rated and potent pheromone formula which is the company's claim, I expect to see some recommendations and/or clinical evidence that supports the products' safety and effectiveness. I could only find mere statements by Dr. Bross.
The reviews written in the company's primary website seem falsified. Now, I had to search up the pheromone formula in other retail website and I came up with several real customers' reviews. Some of them are:
"This stuff smells horrible and taste nasty….. It taste like ashes to me, didn't even use a half a dropper full and could taste it in a full glass of flavored water. I would not waste my money on this stuff again".
"This exciter doesn't work at all. I had been waiting for it and it was no good at all. So stop relying to people about it".
"MY WIFE TRYED IT & IT WORKED SOME WHAT, PEOPLE CAN TRY IT, IT MIGHT EFFECT OTHER WOMEN DIFFERENTLY & MAYBE BETTER"??
"didn't works as prescribed".
The statements above are gotten from Amazon, yet the products there is no longer available, which are a sign that the Crest Labs Pheromones will not live up to the claims and promises. They may just have to be able to improve a person's fragrance not attraction.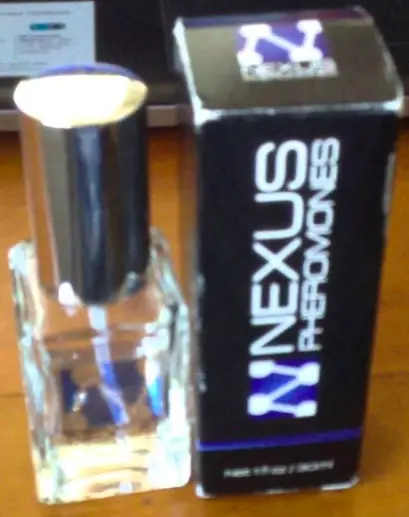 The company's desire to give some incredible guarantee is commendable, but I will rather go for a pheromone blend that will work best for me, not the one I will need to seek permission from my target woman to use.
Now if you want something that I personally been using for a long time, you can check out the Nexus Pheromones formula. Yes, I have been getting incredible results when I use it and also apply with my favorite cologne.
Don't go yet, before seeing my review and find out yourself !
Have any questions? Drop me a comment below!