Smak Pheromones Review – Are There Positive Results? Is It Really Worth It? Find Out Here!
With several pheromone based perfumes and colognes reviewed in the past, I could still find other pheromone products with different claims.
Which, Smak Pheromones are said to actively trigger (sexual) attraction and seduction between partners.
Of course, we know the advantage a pheromone wearer should have. It is still all about opposite and same sex attraction and possible creation of other social/physical responses.
So does this imply that I can easily wear the Smak Pheromone meant for men to attract and seduce the woman of my choice?
What do they contain that will guarantee the mentioned benefits? Here, no questions and possible questions will be left unanswered.
Continue reading!
Name of Products: Smak Pheromones
Websites Found: Available in Retailers (eBay,etc)
Minimum Price: Prices Varies
Overall Rank (out of 100): 81 Points 
Recommend Usage: Apply Few Drops
Refund Policy: Unknown
What are Smak Pheromones ?
Smak Pheromones promotes to be a complete series of attraction pheromone based perfumes for men and women.
From my information source, Smak Pheromones are manufactured in France by RUF Erotic; a pioneer in aphrodisiac for over 30 years.
RUF shares that these pheromones formulas are high quality fragrances made with aphrodisiac scents and should help us increase our power of seduction while making us irresistible to the opposite sex and people around us.
The Smak collections are said to be a series of unique perfumes in subtle scent that should also transport we as customer users to a magic universe.
Manufacturers from these products  share to have achieved success in the pheromone industry which according to them has taken an international dimension with the conquest of many European countries.
The perfumes are said to be made in the best laboratories of which the RUF brands are available in countries such as China, Russia, Japan, Turkey and throughout all Europe.
Smak Pheromone for Him
Smak for men is marketed as a captivating scent of attraction to light odors and exciting ideas that makes life better.
Smak Pheromone for him should work for men who want to attract and seduce the opposite sex.
It promotes to be an alluring fragrance in a 50ml bottle of which we should apply a few drops on the skin to experience the effect.
The fragrance notes are Hespéride, Floral, Amber and woody note.
The contents are Alcohol, Aqua (Water), Perfume, Alfa Isomethyl Ionone, Cinnamal, Citral, Coumarin, Geraniol, Limonene, Linalool.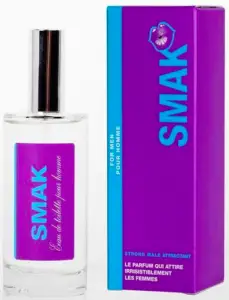 The Benefits;
Irresistibly Attracts Women;
More Attention;
Wearer Feels More Relaxed;
Seduce the Opposite Sex;
Contains Alluring Fragrance;
Strong Male Attractant;
Few drops Trigger Effect;
Made in USA.
Smak Pheromone for Her
This for women is said to be an erotic and exciting fragrance that excites the imagination of men.
According to the manufacturer, Smak Pheromone for Her incorporates exquisite stimulating and captivating scents; hence should envelop the wearer's skin as a second skin.
RUF shares that the fragrance increases the power of attraction and seduction in women.
Smak Pheromone for Her is available in the manufacturer's official website in a 50ml bottle of which users are directed to use few drops on their skin to experience the effects.
The fragrance notes are Hespéride, Floral, Amber and woody.
The Composition;
Alcohol, Aqua (Water), Parfum (Fragrance), Alpha Isomethylionone, Benzyl Benzoate, Benzyl Salicylate, Butylphenylmethylproponial, Cinnamal, Citronellol, Eugenol, Geraniol, Hexyl Cinnamal, Hydroxyisohexyl 3-Cyclo Hexene Carboxaldehyde, Limonene, Linalool.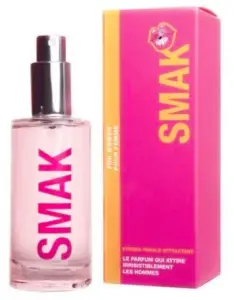 The Benefits;
Claims to Attract Men;
Increases Power of Seduction;
Erotic and Exciting Fragrance;
Gives Stimulating Scent;
Increases Self Confidence.
Customer Support/Guarantee
Smak Pheromones manufacturer shares to provide discrete shipping of any of their pheromone fragrance we purchase.
From the source of information about Smak Pheromones, RUF Erotic offers series of high quality aphrodisiacs, perfumes and creams that are made in certified laboratories.
The manufacturers of Smak Pheromones promotes to have had over 30 years of experience in the pheromone industry during which they claim to have satisfied the sexual needs of many customers.
The pheromone based fragrances should be safe and compatible for the intended benefits.
The company states to offer express delivery for purchased products. We as customer users can get in touch with them through the channels provided in their official website.
Final Summary
As we have seen in the review, Smak Pheromones are said to be all we will need to enhance our attraction and seduction power.
The two categories of Smak Pheromones (Smak Pheromone for him and Smak Pheromone for her) we reviewed so far promote to incorporate strong attractant which is probably the active substance in the products.
At first, there seem to be no hint as to the specific ingredients contained in these pheromones products. I could find the products' constituents after a more thorough search for them.
For a fact, there is no study that validates the products' safety and effectiveness.
Evidently, RUF Erotic has been making pheromones and pheromone based fragrances for about 30 years, yet their formulas do not have enough feedbacks from previous users of the fragrances. But I did find a very few!
More so, RUF Erotic did not mention the terms and conditions of refunds which should be geared towards taking care of unsatisfied users.
Haven done the above evaluation about RUF's series of pheromone based fragrances; I want to share that the Smak Collections could be effective in enhancing the physical/social appearance of the wearer.
Its claim of opposite sex attraction and subsequent seduction might not come to play, without showing some what proof of evidence.
There are more guaranteed pheromone based products out there that will give us the level of opposite sex attraction we desire. Have you got a chance to see the Pheromone Treasures formulas? Probably not !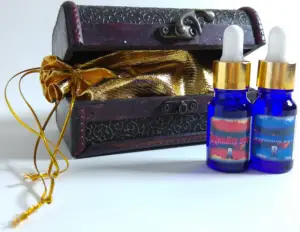 When you click here to see my review for the Pheromone Treasures, I will share every information you need to know regards what pheromone formula best suits you for your needs.
Feel free to take a quick look here!
Don't be shy! Leave your comments!