DONA Aphrodisiacs Pheromone Perfume Review – Is this a Real Pheromone Perfume? Read Review to Find Out!
Dona perfumes are some type of pheromone formulas. Which, pheromones have severally been described as chemical substances secreted/excreted by animals that create social response as well as other effects (affect the behavior or physiology of people).
Pheromones can be endogenous (naturally produced by the body) or exogenous (the synthetic pheromones).
The quest to enhance the bodily produced pheromones and ultimately stops the negative effects of body fluids (sweats) on the naturally produced pheromones has led to the influx of different pheromone based perfumes/colognes in the market.
In search of these pheromone based fragrances, I came across the DONA Aphrodisiac Pheromone Perfume which states to be the real deal when it comes to triggering attraction for sex/social bonding.
This review should bring to limelight what we can expect from using this formula as we cannot say whether it is effective or not at this point.
Grab a cup of coffee and follow down the review!
Name of Product: DONA Aphrodisiacs Pheromone Perfume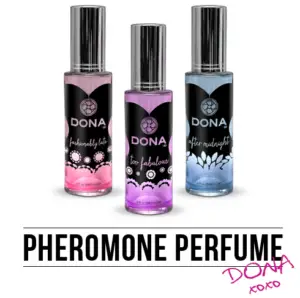 Found Website: Several Retail Websites
Amazon: www.Amazon.com/Dona-Pheromone-All-Scent
Minimum Price: Prices Varies Upon Scent Chosen
Overall Rank (out of 100): 88 Points
Recommended Usage: Spray on Pulse Points
Refund Policy: Amazon Does Have One
What Is DONA Aphrodisiac Pheromone Perfume ?
DONA Aphrodisiac Pheromone Perfume is marketed as a unique sensual spray made with synthetic pheromones to boost desirability.
This is a brand of pheromone based perfume by DONA JO.
According to the manufacturer, this pheromone based perfume has an aphrodisiac effect (ability to trigger sexual arousal/feelings) and should ultimately produce seductive fragrances that will make its users attractive and irresistible.
According to them, DONA Aphrodisiac Pheromone Perfume produces a long lasting effect and is not made with any hormone or animal by-product.
This pheromone based perfume is in a 2fl. oz spray container and all we should do is to simply spray it on the pulse points such as the wrists and necks to achieve the stated effects.
In paraphrase, DONA Aphrodisiac Pheromone Perfume manufacturers described this perfume as one that will make us attractive and trigger sexual feelings in any woman we may wish to have. This means that you can attract men easily by using this pheromone based perfume as directed.
DONA Aphrodisiac Pheromone Perfume can be purchased from several third party websites where it is found.
They do ship discretely and offer replacements for defective products.
Continue reading to get more details!
Scents/Aroma
According to my research and findings, there are 3 types of DONA Pheromone Perfume, the (After Midnight) scent one, the (Fashionably Late), and the (Too Fabulous) formula.
Plus, price varies on which one of the choices.
Now the hints are such as vanilla, coconut, sandalwood, Mandarin, Almond blossom, Cinnamon, Mocha cream, Orchid, Honeysuckle, Jasmine, Fresh milk, Maple, Vanilla, Amber and Musk.
Here on the Amazon website at (www.Amazon.com/DONA-Pheromone-All-Scent), there are all 3 formulas to choose from, plus you're going to see what previous customers are saying about such product.
More details below! 
How Does it Work?
According to the manufacturer, DONA Aphrodisiac Pheromone Perfume works by combining with the user's body chemistry to create a customized fragrance.
This perfume is said to incorporate intoxicating blends of aphrodisiacs and pheromones with an ultra-light and refreshing fragrance.
What DONA Aphrodisiac Pheromone Perfume does, as implied in the manufacturer's description of the product is to trigger a sensual feeling in men making them highly receptive for sexual behavior.
Similar sex triggering pheromone based perfumes work by affecting one organ/receptor or the other which I feel should be the case here, though not explicitly mentioned by the manufacturer.
Who Is it For?
DONA Aphrodisiac Pheromone Perfume is for women who want to get the best out of their sex life.
This pheromone based perfume for the ladies who want to improve their desirability and attract men.
From research and finding done before putting up this review, DONA Aphrodisiac Pheromone Perfume manufacturer did not specify the age group that can use this product.
In other words, it is not meant for a specific age group. If you are amongst this group of women who want to attract high class men confidently, the manufacturer of this pheromone perfume claims that the formula is for you.
Overview
Merits:
Improves Desirability;
More Attraction;
Increases Sexual Libido,
More Sexual Pleasure;
Increases Self Confidence;
Easy to use;
Safe and Effective;
No Side Effects;
Official Website Exists;
Testimonials About;
Fast Shipping;
Worldwide Delivery;
Fair Price.
Demerits:
The

ingredient proportions

contained were not listed;
Nothing was seen about clinical/scientific endorsement to prove product's efficient.
Customer Support/Guarantee
DONA Aphrodisiac Pheromone Perfume promotes to offer replacement for defective products.
According to them, products are discreetly shipped and orders are processed within 1-2 business days. They Ship internationally.
DONA Aphrodisiac Pheromone Perfume states to have no harmful effect as it is compatible with the users' body chemistry.
They have an official website and the formula is also found in other third party websites.
The price is somewhat affordable and they promise that the pheromone based perfume will leave up to its claims.
Review Summary
Having gone through the several details about DONA Aphrodisiac Pheromone Perfume, it is pertinent we re-visit the major facts and reach a conclusion in line with these details.
DONA Aphrodisiac Pheromone Perfume has sexual libido arousing property, yet no documentation was seen to prove the efficacy of this formula.
Conversely, good reviews were given by previous users of this pheromone based perfume on third party websites where it is marketed.
On the other hand, if a user of this product is dissatisfied, the possibility of getting a refund is not guaranteed in line with the information obtained so far.
Here is what I have to say!
DONA Aphrodisiac Pheromone Perfume is a pheromone based product that should optimize your physical appearance for more attraction.
The formula is sold at a fair price and even though there're mixed reviews, some previous users testified positive about it.
At this point, I will not completely condemn DONA Aphrodisiac Pheromone Perfume. So, if you want to head on to the product's webpage where you can choose the scent of your choice and see what customers are saying, take a quick step at (www.Amazon.com/DONA-Pheromone-All-Scent) if you need greater desirability.
However, I won't let you go before letting you know that there are pheromone perfumes out there that are much more effective and high quality, such as the Pheromone Treasures unique perfumes for women.
PheromoneTreasures do have a variety of pheromone formulas for you (woman) to highly attract men for the purpose you need. You can click here and I'll take you to my review of all their pheromone perfumes and go from there!
You can always drop your comments below! It would my pleasure to hear about what you have to say.